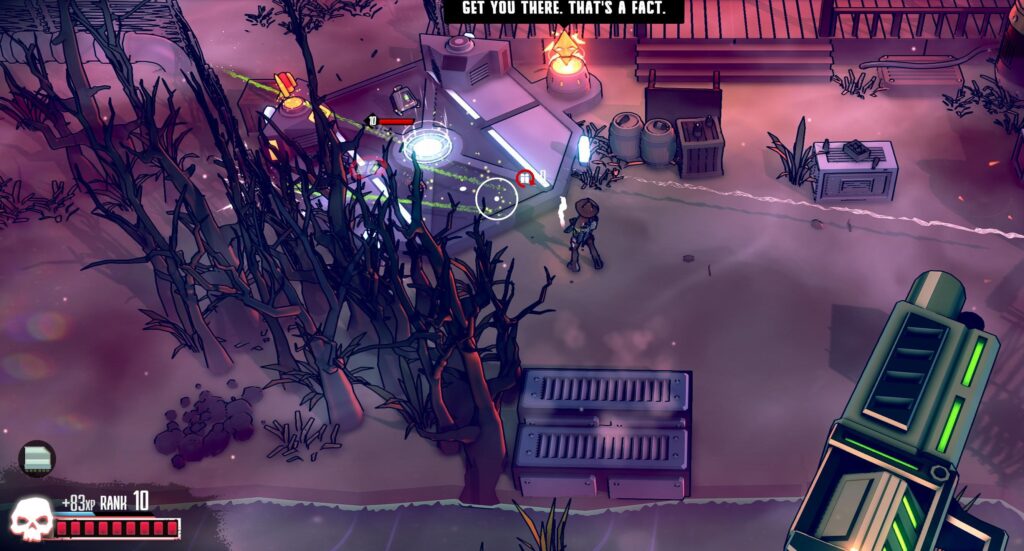 PC, PS5, free
Elypse
Borrowing armfuls from Ori And The Blind Forest, alongside reasonable chunks from Hollow Knight, Elypse is an immediately very familiar-looking metroid-like. Right up until you start jumping. The hook of this game is in how you negotiate its levels, using a combination of Ori-style directed leaps and attacks. These, strung together, allow you to bounce around levels in an engrossingly nimble way, both jumping and attacking in athletic aerial displays.
Whether the full version can do enough to distinguish itself from its very obvious inspirations (right down to the sort of echoey grunts and moans of its character's speech) remains to be seen. But then again, more Ori doesn't seem a bad thing to me.
Radio The Universe
Wow, this is extraordinary. An action-puzzle game, presented with the most incredible glitch aesthetic, that has absolutely captured me with its demo. The presentation is stunning, the way jump destinations show up as glitchy lines, the machine code that scrolls and wobbles on screen – it's all just amazing. It then gets a whole other level of interesting when it reveals its combat mechanic, in which you only gain XP from larger enemy kills if you reduce their HP to zero without getting it to 1 first. So, you need to pick the size of your attack, whether melee or ranged, so as to chip its HP down in the correct-sized chunks -that's something I've never seen before. I cannot wait to see more of this.
Dust & Neon
Imagine if you were mad enough to cross Borderlands with Full Spectrum Warrior. That's Dust & Neon, a game about being a robot cowboy, rolling between cover and firing squillions of guns at other robots. At this stage, the demo shows a potentially fantastic game, but one that's still in need of a bunch of work to get there. From the start it encourages you to use cover, to avoid open gunfights, and then the AI just charges you from five directions making a complete mockery of the concept. But given time and work, I can see this being a really fun little cover-shooter, with a bonkers collection of weapons.
KOTOMASHO
Or to give this Game Boy-styled Zelda-like its full name, KOTOMASHO: I Can't Believe This NEET Guy Turned Into a Magical Girl! This is about a 21 year old called Genji, who after leaving college avoids getting a job in order to just hang out in VR. But one day he gets sent a magical crystal, and finds himself instead in a dream world, where he appears as a girl. A magical girl. Who befriends a magical flying cat. And there are dungeons. It's bonkers, but a neat start for a classic Nintendo-style RPG.
Edge Of Dead: Under A Uranium Sky
I was immediately having a lot of fun with Edge Of Dead, despite how incredibly brutal it is. This is a run-n-gun bullet-hell shoot-me-do type-thing, but rather than just cloning Vampire Survivors, instead it opts for something a bit more classic, a series of procedurally generated smaller areas, with a monstrous number of enemies to kill in each. There are weapons to find, equipment to use, and dying to do – a lot. But it's lovely and fast, with no fuss between restarts.
The Last Case Of Benedict Fox
This is an absolute beauty, that I've not noticed before, despite its coming out in just a couple of months. It's part side-scrolling action platformer, part adventure game, and the two halves combine very neatly. The combat feels tight, and interestingly involved, broken up by puzzles, items to gather and inspect, and a whole big Lovecraftian mystery to solve. Also, it's astonishingly pretty.
Unmurk
Some puzzle games are a lot more fun to play than to describe. Unmurk is a great example, its demo having kept me happy for a good while, as its super-chill ambient soundtrack scores some unpressured methodical puzzling. But describing it? That just makes me feel tired and stressed. So do me a favour, watch the video above, and pretend I vividly laid it all out for you in the text. I'll be carrying on playing it.