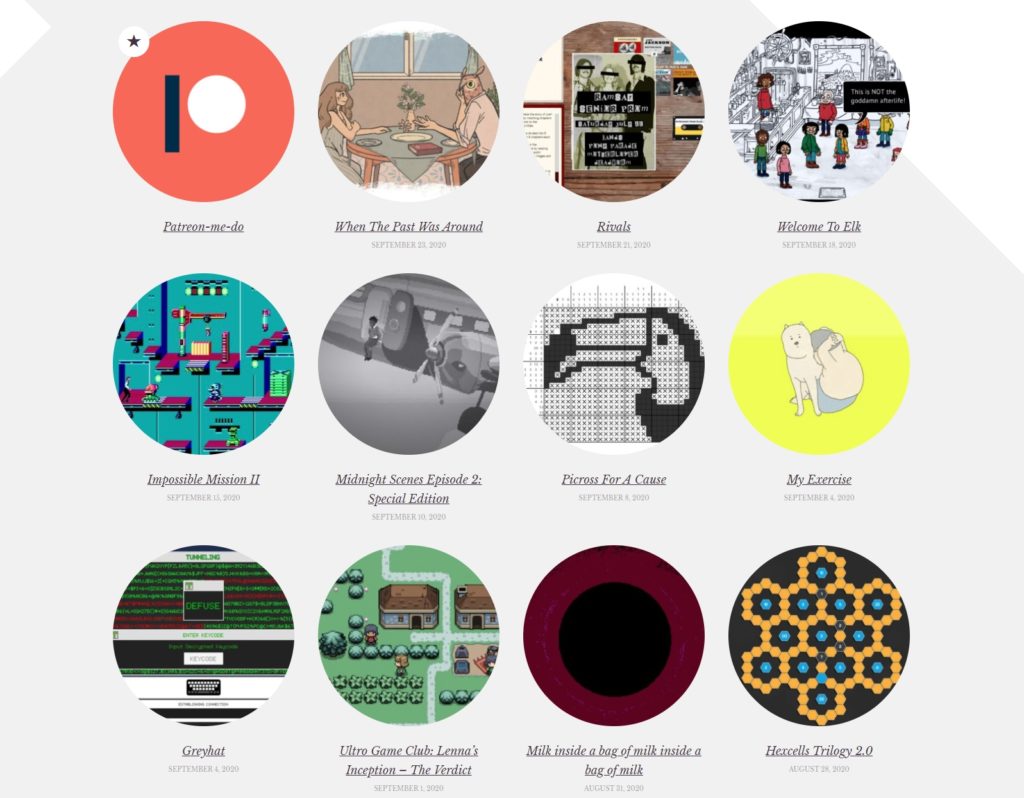 Hello. I wanted to do a sort of state of play update, as Buried Treasure heads rapidly toward its first anniversary. Admittedly, that's technically in December, but I started work and registered the URL in October 2019, so it's almost been a year for me! Shush.
Headlines:
Buried Treasure is doing incredibly well, and I'm so delighted, but I need it to do better to let it become what I believe it can be.
I am hell-bent on reaching a point where Buried Treasure can become a place where new writers get support, guidance and paid work.
I shall be uncomfortably frank and open about money.
I desperately need a better designed site. Please get in touch if you can do that – I will pay you.
I've covered over 100 games in the last 11 months, which is a LOT of games.
First of all, I'm so honoured and delighted that reaching a first year has happened at all. I'd no idea if this project would work, especially funding it by throwing my hat on the floor and hoping some people would drop in their spare change. Having come off 12 years on Rock Paper Shotgun, with an audience of millions and a budget to match, it felt weird and frightening and potentially irresponsible to go all the way back to the start again. But my passion in the later years of RPS had really become focused on bringing attention to excellent games the rest of the industry didn't have the time or the inclination to cover, and I really wanted to carve out a way to do that full-time. I'm so utterly thrilled and humbled that over 350 patrons are helping to fund my doing that.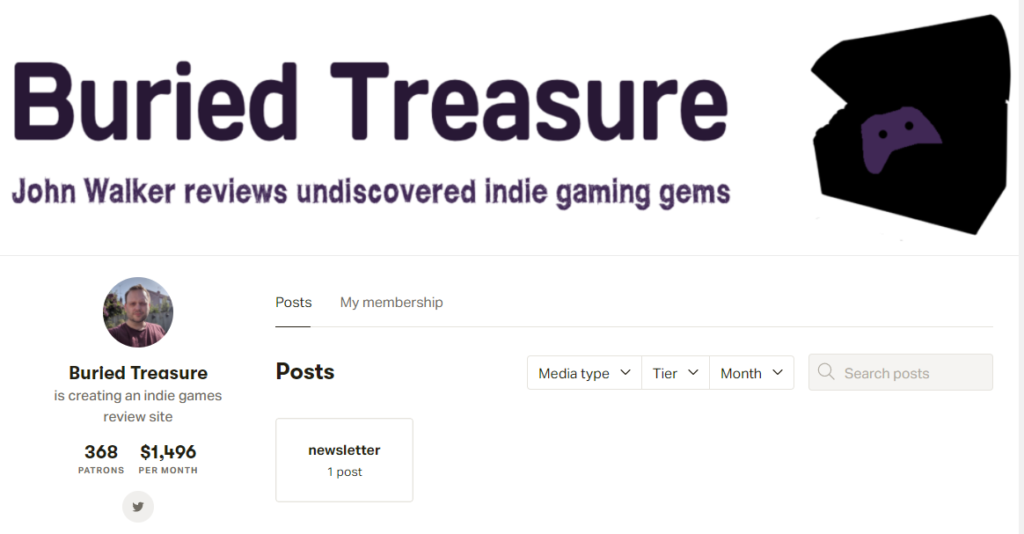 Right now BT (yes, clearly, I should have picked a name that didn't abbreviate to one of the UK's biggest companies) is bringing me about £1000 a month (after fees but before tax), and that's completely amazing! It's also about the most confusing figure possible, in terms of what I do with the site. Let me explain…
£12,000 a year, you might have heard, is rather hard to live on. Especially with a kid. I am in awe of those who do. It's significantly below the UK's minimum wage. So I have to do other work too. Right now I'm aiming for three or four features a week on BT (yes, the last couple of weeks have been a miss), spending three hours a day editing Kotaku, co-running a fantastic consultancy company called Quick Save with Craig Pearson, and writing as much freelance as I can in the no gaps. Often all at the same time. Essentially four different jobs. I'm still making quite significantly less than I was in my last few years at RPS, but I'm also enormously grateful to have work at all. I'm very much one of the fortunate ones.
The issue is the amount of time I can dedicate to Buried Treasure. It's splendidly successful enough to be an ongoing endeavour, but not successful enough that I can give it the time and energy it needs to grow. So I need to figure this out.
Ideally, and gosh this is easier typed than achieved, I need to cross that $2,000 a month barrier. Currently things have stalled around $1,500 for the last couple of months (and believe me, I am so damned aware how much that is, and how much so many Patreons would give arms and legs for $1,500, but I can only speak about my own situation), and to start being able to do what I want to do next, it needs to keep going up. What is it I want to do? It's to go farther, deeper, with the ethos behind the site: help unknown games get the attention they deserve. And on top of that, help unknown writers do the same.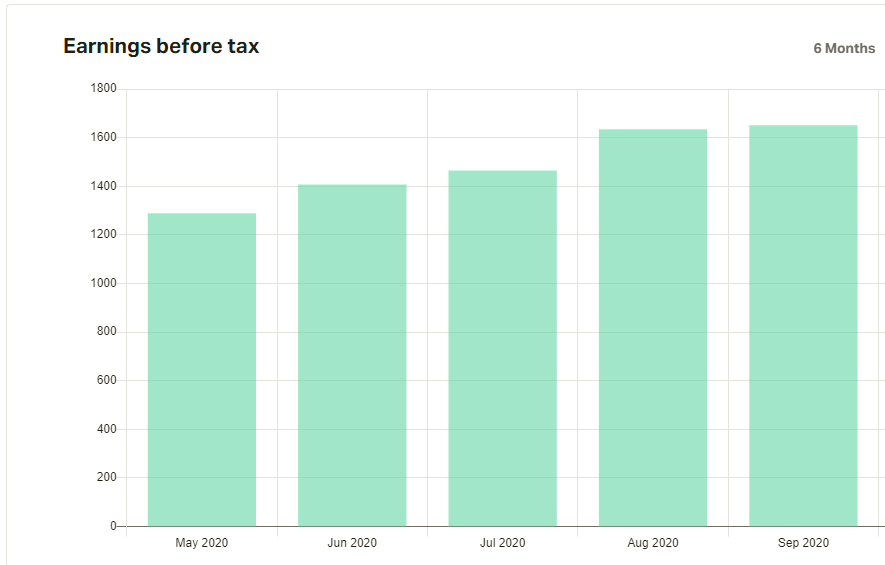 I so desperately want Buried Treasure to be a site where new writers can cut their teeth, get paid and published, gaining a credit they can then take with them to other bigger sites. I want to work with creative people, to help them hone their writing, develop their skills, and become better equipped to find more paid work. It's something I'm good at, have done a lot before, and have the experience and knowledge to do well, but just lack the budget to pay the writers. And there's no way on Earth I'd do this without paying the writers.
At $2,000/£1,500 a month, not only would BT be making me a foundational £18k a year, but it means a portion of that can go to paying for contributors. At $2,500/£2,000 a month, which seems ridiculously high but is completely possible, we can start really having fun.
What I have to work out is, is there a paying audience out there I've yet to reach, another 300 or so people who would be willing to hand over $2-$5 a month to let this project flourish? I need to work out how to reach them, because I've seemingly exhausted the potential of as far as my Twittery arms can stretch. Or I need to work out another way to bring money into BT that doesn't compromise the vision. (Advertising isn't a particularly likely route, because while the people who read BT are very likely to spend money on the games, the numbers are currently far too low to attract businesses.)
This is all very frustrating, because I of course know ways I could make money. I know how easy it would be to set up affiliate links, or do sponsored posts – they're just not things that feels right for the site. I am very open to suggestions.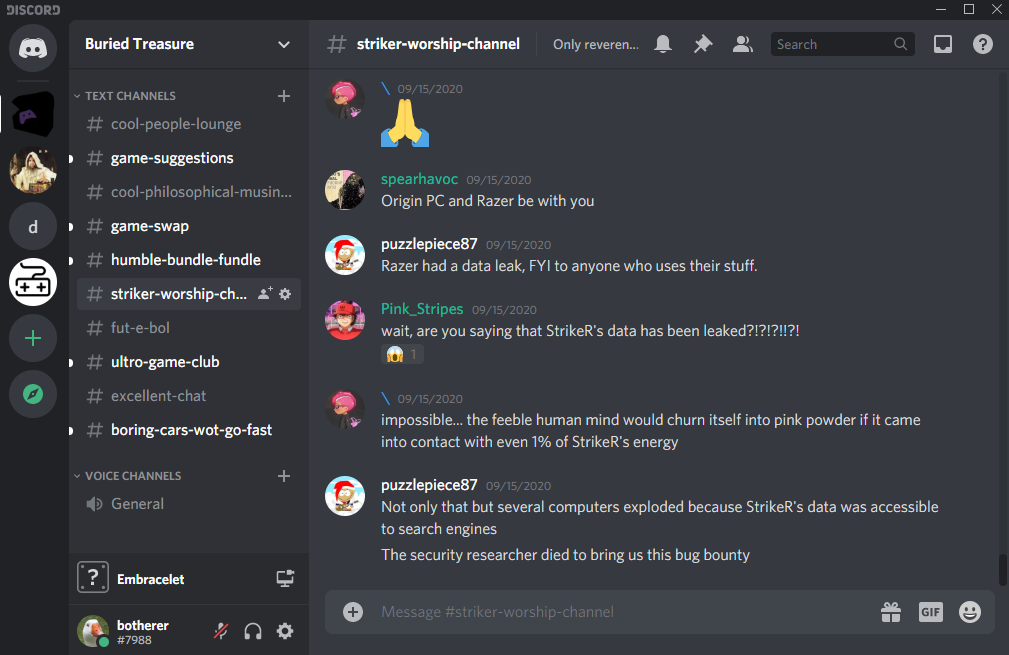 And yes, the site isn't fit for purpose. It's my own botched attempt with WordPress, and currently the "load more articles" button has completely broken after one click, and I haven't the faintest idea how to fix it. I desperately need a better/heavily patched up site, and if anyone is interested, get in touch. I will pay you for your time.
That's where things are at. I'm trying to be as transparent and truthful as I possibly can, because, well, what's the use of not? I'm very happy to answer any other questions. And gosh, if you can convince anyone else to back the Patreon, perhaps an eccentric millionaire aunt or similar, that'd be great too.
As much as I want to make some money doing this, I hope it's clear I want to promote buried games more. I mean, I could go get a proper job. But this feels a worthwhile use of my skills. I want Buried Treasure to grow into a respected site within this industry, a place the bigger sites care about enough to nick games from and cover themselves. And be a place where new writers get to develop and show their talent. That's all. But I believe we can do it.
All Buried Treasure articles are funded by Patreon backers. If you want to see more reviews of great indie games, please consider backing this project.