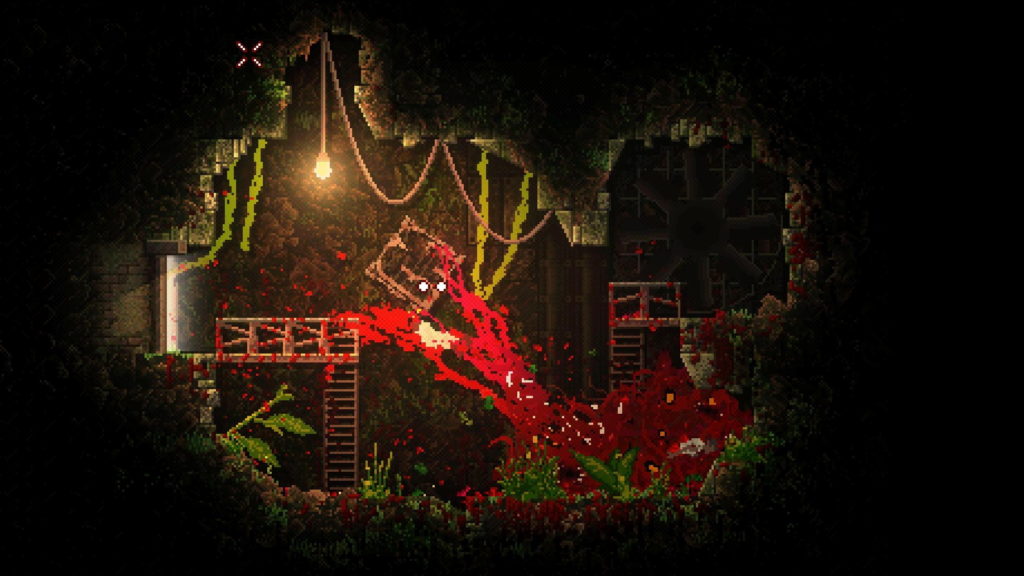 PC, Xbox One, Switch
Hello. I'm sorry it's been quiet on the site this week. I've suddenly got the most ridiculous amount of work on in one week, working 16 hour days to try to keep on top of it all.
It's going to be worse next week – I'm on holiday. But the site will be back up to full speed on the 3rd August.
Then to make matters worse, I figured that Carrion might be a good inclusion for Buried Treasure, and sank a whole bunch of time into that. Which made me far too aware there was no universe in which this game would be buried, because bloody hell, it's amazing. And yeah, it's had 29 reviews on Metacritic already, and the embargo was supposed to be today (Xbox screwed up). (Gosh, some of them are really dumb.)
What makes this game so fascinating to me is not the gimmick that you're the enemy, which it delivers better than any previous game that's tried it. Nor the gore, which is just the best. It's not even the movement, even though it is, because I've never experienced a game where moving feels this good before. It's that there's no boss fights. My only real criticism is that the game's slightly too easy, and even then, I barely mean it. Because goodness me, a game that's not trying to be moronically difficult! It sounds like something only spoken of in legend.
So of course there are dumbass reviews saying, "WAH WAH I didn't get to feel like I was better than other people for being able to finish this!" But ignore those buffoons, who appear to think every single game should be like every other single game. Embrace the absolute pleasure of being the monster, being the boss fight yourself. This game simply wouldn't work if it were hard, because it would make your role as the offal-beast monster completely idiotic if you were vulnerable to the humans. The whole point of this is you're not. You're almost invincible, and it's a game about feeling that way.
Anyway, Kotaku picked up my offer to review it for them, so I got to write about it anyway, and you can read it all here.