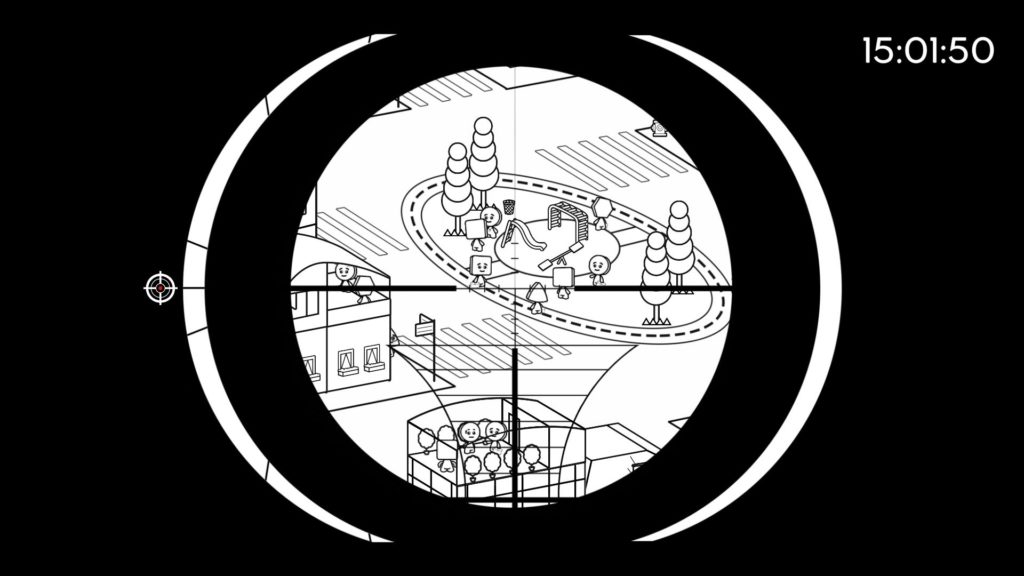 PC
I almost immediately began profiling. In one level, trying to prevent the assassination of a Chancellor, I killed a man because he had a scar. I'm not proud of it. It's perhaps one of upward of 800 reasons why I shouldn't be allowed a gun.
Geometric Sniper is, beyond a shadow of a doubt, not yet a good game. But oh my goodness I want it to be so much that I'm writing about it, in the delusional hope that I'll somehow be able to influence it. Because if I were an indie publisher and someone came to me with the pitch, "It's a cross between Hidden Folks and Hitman," I'd have responded by lifting two giant bags of money and dropping onto the desk between us.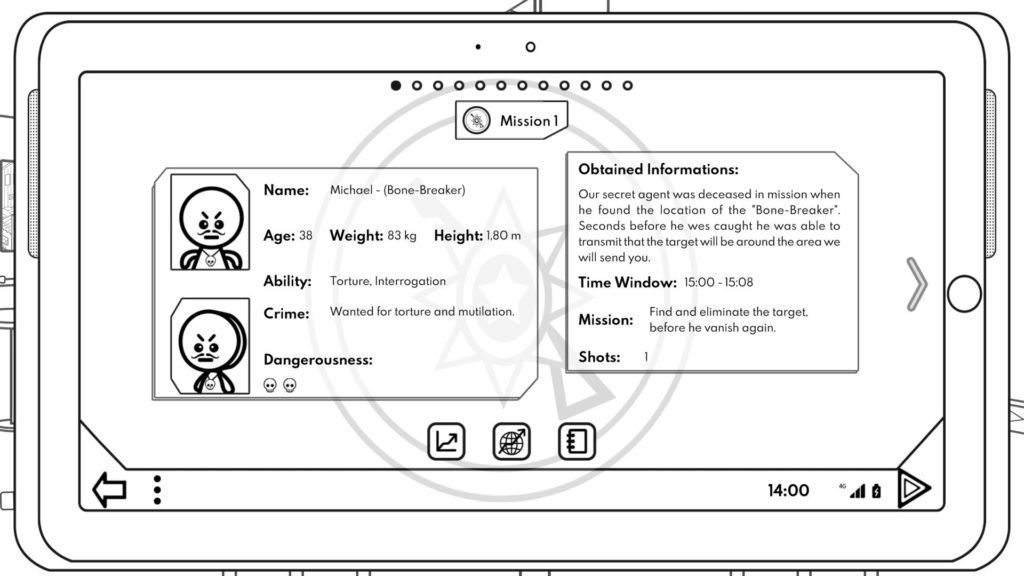 That really is the concept here. It has the clean line drawings of Hidden Folks, but viewed down the circular scope of a sniper rifle, as you search out busy city scenes for your specific target. Perhaps you're after a man with a triangle-head, villainous moustache, and monocle – you need to look all about the city as its denizens potter about, finding your target, and then popping a bullet into his head. At which point an extremely cute black-and-white game becomes absolutely macabre with the tiny splatter of red blood and cartoon shape-person falling dead to the ground.
Currently this is a very early Early Access, just five levels, in some spectacularly poor English. (But you know, my Portuguese isn't quite up to scratch either.) It's far too early to be writing about it! But here we are, and it's presently on sale. So here's what it needs: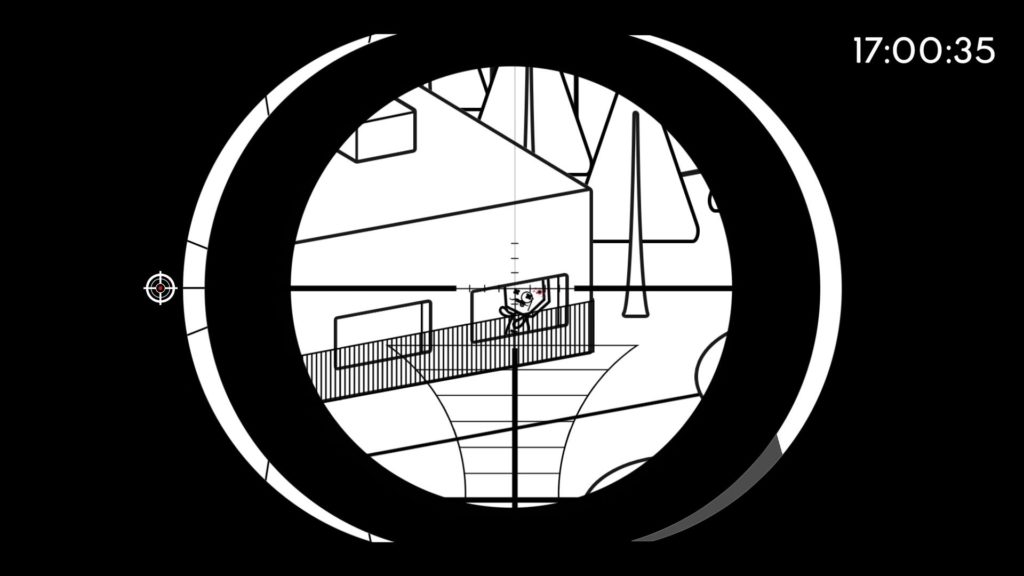 More than anything else, it needs a complete re-write. Even if the broken English were all fixed, it'd still be a miserably dull way to present such a superbly daft and horrific idea. Such a conceit needs a ridiculous story to match. As the levels hopefully get larger and more complicated as development continues, it'd be great to be drawn in to this hitman's world, and to have even an inkling of why these particular targets are being given to him.
Then it needs a fair amount of work on the UI, with its current representation of targeting accuracy being completely impenetrable. That and holding breath to fire needs to last longer than three or four seconds. My five-year-old can hold his breath for twenty seconds. And while admittedly I've yet to let him play around with a sniper rifle, I suspect he could manage a bit better than this mysterious assassin.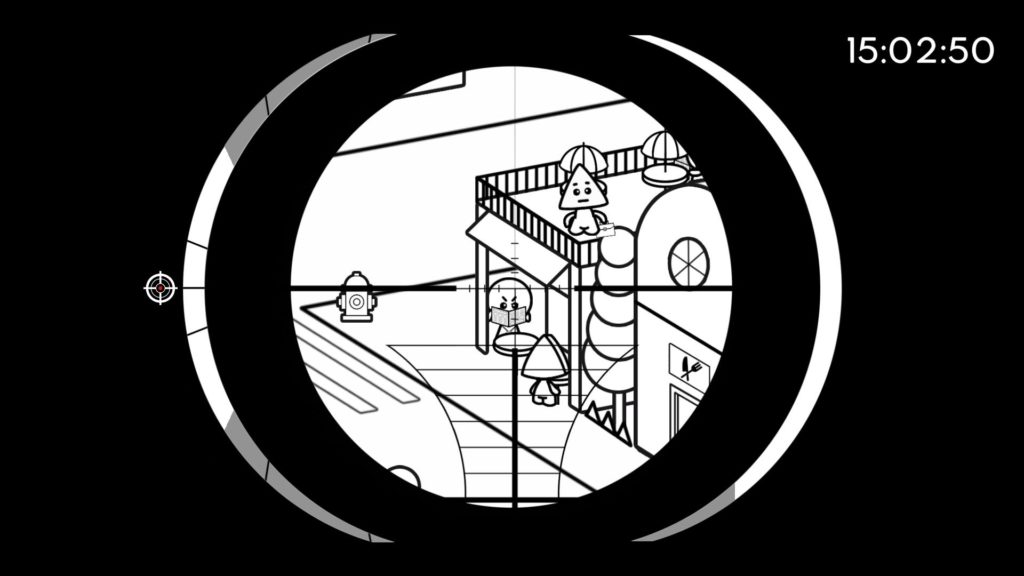 Rather sweetly it already includes a hidden object style variation on how to play. Trying to five fourteen cartoon bones in the city streets, for instance, targeted using your rifle scope natch. This is exquisitely daft, but also reminded me of another fix it rather desperately needs. Currently while playing either mode, there's no way to remind yourself of what your target looks like. Now, the rumours of my being a professional murderer have always been deeply scurrilous, but were I attending such a hit, the very least I'd do is jot down the pertinent details of the person I was attempting to assassinate.
Should you buy this now? Well look, it's £1.35, so you're not exactly going to be taking out a second mortgage. But understand this is, at the most generous, a demo at this point. I'm just so taken with the ridiculous idea, and the lovely presentation, that I couldn't help myself.
YAW Studios
£1.35/€1.27/$1.59
All Buried Treasure articles are funded by Patreon backers. If you want to see more reviews of great indie games, please consider backing this project.