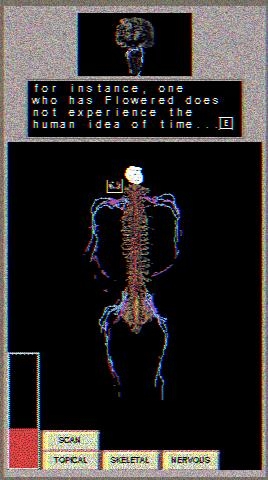 PC
We can blame the enigmatically named Buried Treasure backer "\\" for this one. Not awful in the way its title suggests it might be, but awful in an entirely other way. A truly creepy ten minute horror game, played in the tiniest portrait window, that properly evokes the body horror of 1970s Cronenberg.
The year is 2040, and apparently the struggle for humans to feel connections haven't improved. The latest fad, it seems, is something called Flowering. This is where a human is infected by a psychically powerful lab-synthesised fungi, in an effort to fuse with its shared collective consciousness.
As the game's intro explains, you are a medical student, and are studying the application of this fungus to a new host – in this case one of the fungi's own researchers. He's excited about it! It's your job to scan him as he goes through this process, my moving a little scanny robot shape across the larger black window on the screen, then further scanning for hotspots on one of three layers: Topical, Skeletal and Nervous. Find a hotspot and the patient will explain to you what's happening to him. And don't worry if he starts screaming, it's all part of the process.
The combination of the lo-fi presentation, along with its scratchy fuzzy sound effects, and disturbing imagery of a distorting body, all add up to an impressively unnerving experience. One cemented by the distant, uninterested tone of the Floweree as he nonchalantly narrates the gruesome process.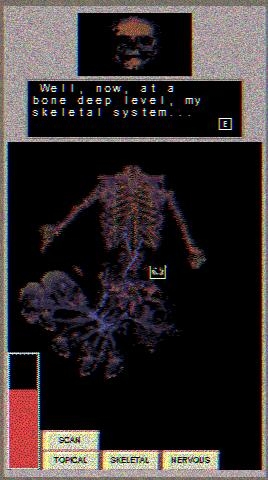 Free, and very short, this is a literal no-brainer if you're into your body horror or fancy a nice quick scare.
Yames
Free / pay what you want
All Buried Treasure articles are funded by Patreon backers. If you want to see more reviews of great indie games, please consider backing this project.