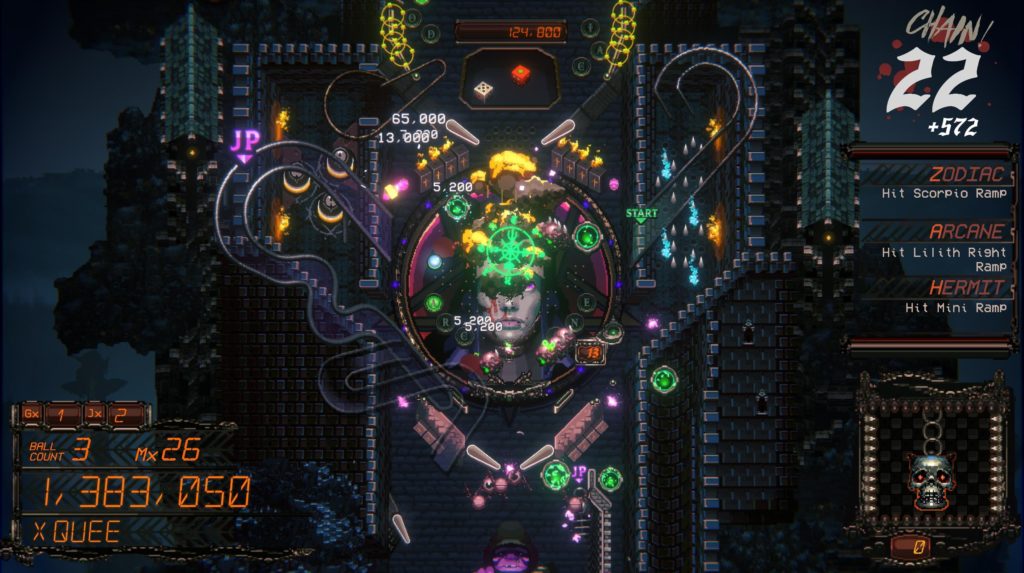 Switch, PC
I think I wasn't invited the day they explained pinball. I can only assume that there was a thing at school, probably around 12 or 13, where they called in all the kids they liked and told them how to play pinball. Maybe they had a few tables out in the room so everyone could practice with guidance. The rest of us were probably in a chemistry lesson.
So it is that I'm constantly bemused by the very concept. I stare at pinball tables like I might a screed of Mayan runes. These fantastically complicated tables, covered in lights and pictures and tracks and bumpers, and I think, "Hey, it's just bouncing a ball around, any idiot can do that." Like one might think, "Hey, it's just some writing, and those thousands of years ago people didn't have trouble reading it." I'm pretty certain that Demon's Tilt is probably a very good pinball game. I've no way of really knowing though.
I've certainly spent more time playing pinball videogames than I have real-world ones. In the real world there are other people around to watch as I somehow fail to ever time the flippers with the ball, and watch helplessly as it seems to always find a micron-wide path to fall through that tiny gap down the left side and out of play. People who were at the lesson, and know what I should be doing, and most of all, know I wasn't at the lesson. No, I don't play in front of them. But over my childhood I certainly played a good few digital tables, almost always because they were included on the cover-disc of a magazine.
I seem to remember playing on Atari pinball game enough to sort of have an idea what I was doing. Pinball Dreams maybe? Probably just the demo. What I hope I've established by this point is that I am about as far as one can get from being an authority on pinball games. And yet I feel compelled to recommend Demon's Tilt, because, um, it looks really pretty! And because someone else told me it's good. A bigger boy.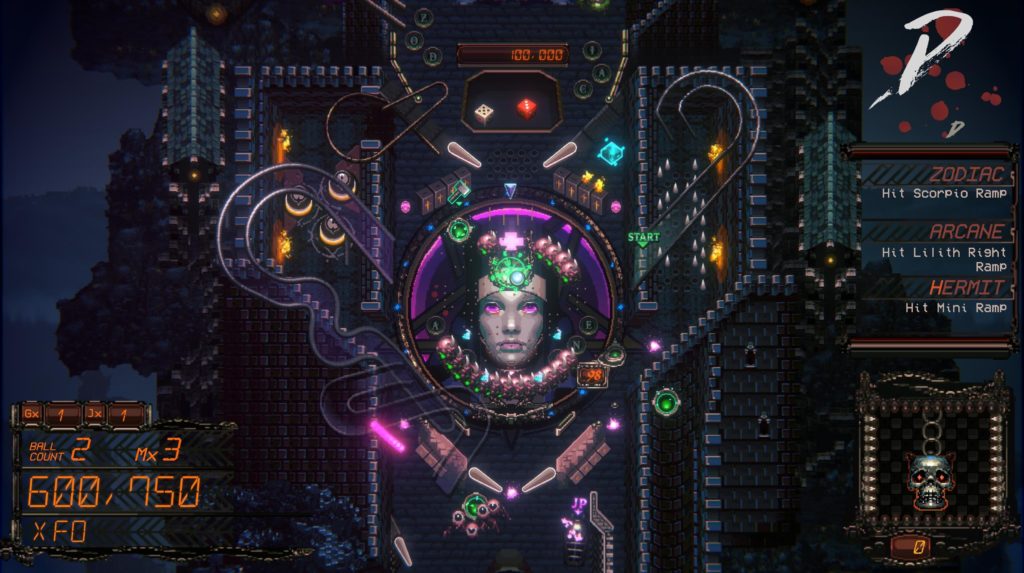 It's apparently something of a spiritual sequel to a 1990 pinball game called Devil's Crush. You can certainly see the similarities, from layout to that lady's face in the middle of the table. What Demon's Tilt does that I'm pretty sure not many pinball games do, is add a bunch of shmuppy enemies to 'attack' as the ball bounces into them. And it's all presented in some absolutely exquisite pixel art.
I've played it a whole bunch. It is, as far as I can tell, a single table of occult-themed mayhem. I thought it was going to be more when the Steam page said it was a "three story table", but it turns out I think they mean "storey". It has three tiers, anyway. One seems not very many tables for over £15 to me, but then everyone seems to be leaving it very positive reviews and not complaining about that. Gosh, look how pinball pushes me so off my cushion of self-assuredness.
I am slightly more confident to say that the shouty voices get a bit grating after a while, and I really don't know why I can't skip the boring score maths it makes me sit through between balls.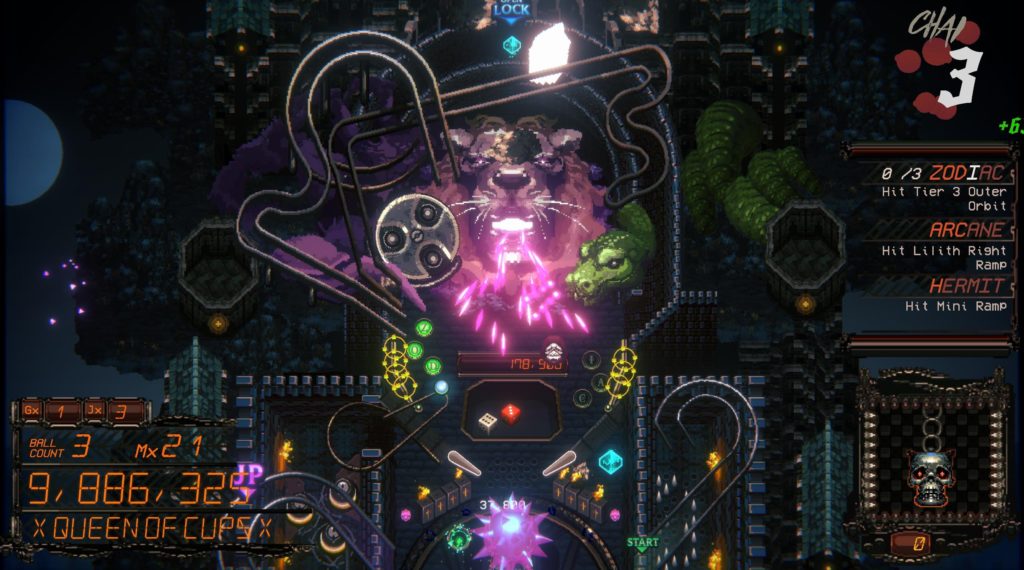 Sorry that I can't be more helpful. Hopefully if you care about pinball games you can get a good idea for yourself. You'll almost certainly be able to defeat my best score so far, which currently features at 3997th on the global leaderboard… No wait! I just played some more. 3330th! Progress!
It's definitely worth noting that I'm getting marginally better the more I play, although at the same time, still have little idea of what's actually going on as all explodes around me and the ball teleports all over the place. I enjoy playing it though! I'm not wholly convinced I'd be as enjoying it had I spent £15 to do so. Although I'm pretty convinced that aficionados would understand the pricing a lot more. I mean, it's certainly of note that my highest score is around 18 million, while there are scores on the leaderboards over 2 billion. That is clearly indicative of a lot more game than I've been able to touch.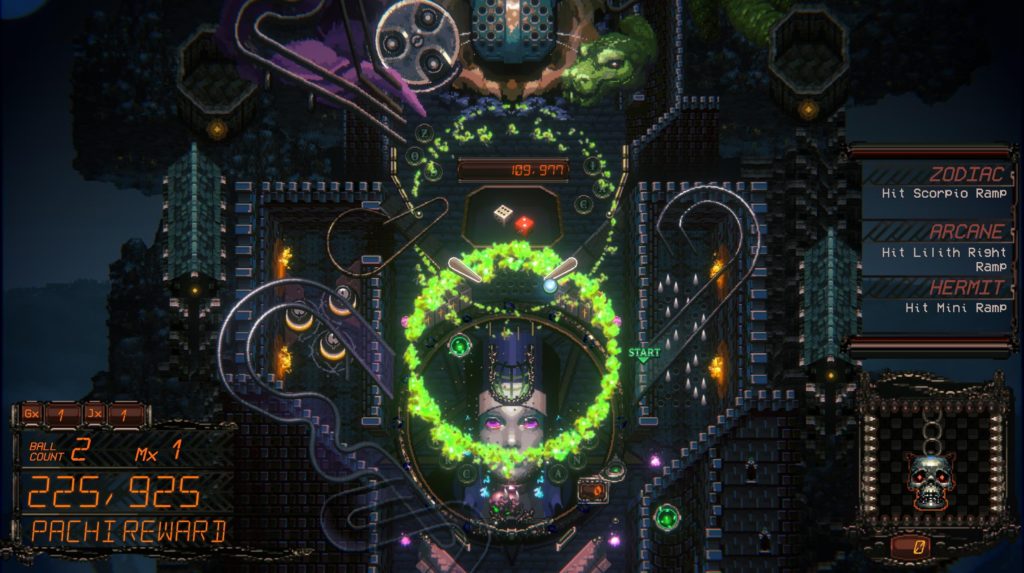 It certainly sounds the part with its 16-bit soundtrack, and muffled barks that leave much to interpretation. It's a shame there's no option to turn the music off, that I can find, since it gets a little overbearing after a bit. But this is unquestionably a meticulously crafted aesthetic experience, as well as a very involved pinball… pinballing? No idea. Which is maybe the point.
It does make me wish for a game that was more shmup and less pinball, but with pinball controls – that'd be a thing. But for those who enjoy pinging metal balls at speeds us uncool folk can't perceive, I suspect this will offer a fair amount of joy.
WIZNWAR/FLARB LLC
£15.49/$20/€16.79
All Buried Treasure articles are funded by Patreon backers. If you want to see more reviews of great indie games, please consider backing this project.