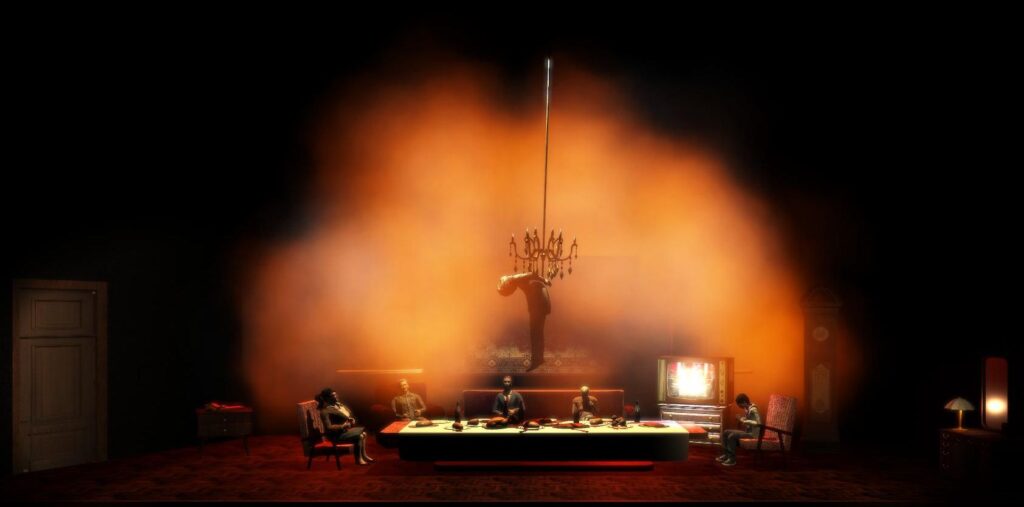 PC, free
We've all been to a dinner party like it. Your mum's there, but she's acting strangely, and the guests include friends but also that one weird neighbour, and there's that hooded, hanged dead body hanging from the chandelier.
The Feast captures that uncanny awfulness of films like The Cook, The Thief, His Wife & Her Lover or Society, where no one is behaving as they should, and the impossibly dreadful is treated with complete nonchalance. People you should be able to trust are behaving as if the macabre is acceptable, and there's no immediate explanation as to why.
Things begin as you, a young woman, arrive at your mother's house for an ambiguous celebration. It's a special holiday, you're told, although you're not aware which. At the gathering are a bunch of people you already know: a work colleague, a pregnant friend, and an odd chap who lives upstairs in your mum's lavish apartment building. There's a large table laid out with a great deal of food, and a dead body hanging from the ceiling. From this point, you choose how you react to this madness, with consequences no matter your decisions.
The Feast is a single-room adventure game, where you can interact with the people, the furniture, and the food, choosing whether to outwardly express your revulsion and anger, attempt to process it silently, or just join right in. This is all monitored by three meters, "Approval", "Party Ruined", and "Suspicions." The first is whether you're fitting in, not upsetting the others. The second and third obviously overlap somewhat confusingly, but you can more overtly affect the second by more obvious antagonistic actions (breaking furniture, screaming in terror), while the third is dialled up if you're trying to be more subtle.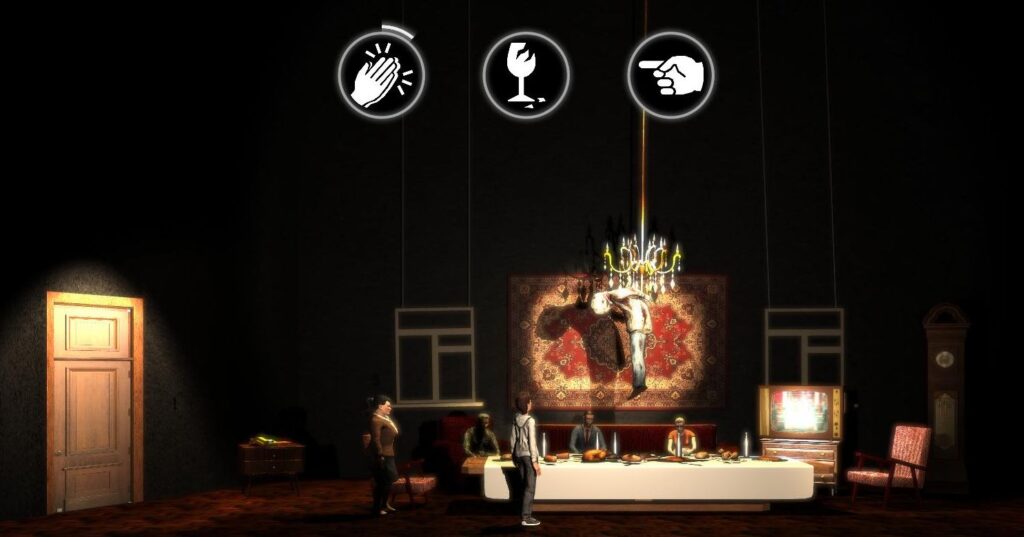 In between obligatory courses at the table, you can choose how you want to interact with the scene. You could just try to escape immediately, or grab the phone to call for help. Or you could sit down quietly, politely chat with the guests, all while trying to figure out what the hell is going on. Or, you could push the TV off the table, and start breaking everything you can find. But more likely, a mix of all of these.
In my first play through (about half an hour), I tried to react as honestly as possible, which involved freaking out, panicking, begging for help, and so on. In my second, I decided to be all-in, really here for this. Dead body? What dead body? It's thankfully not so clear-cut, and actions you might think innocent could easily raise suspicions – we're in a bizarro situation after all.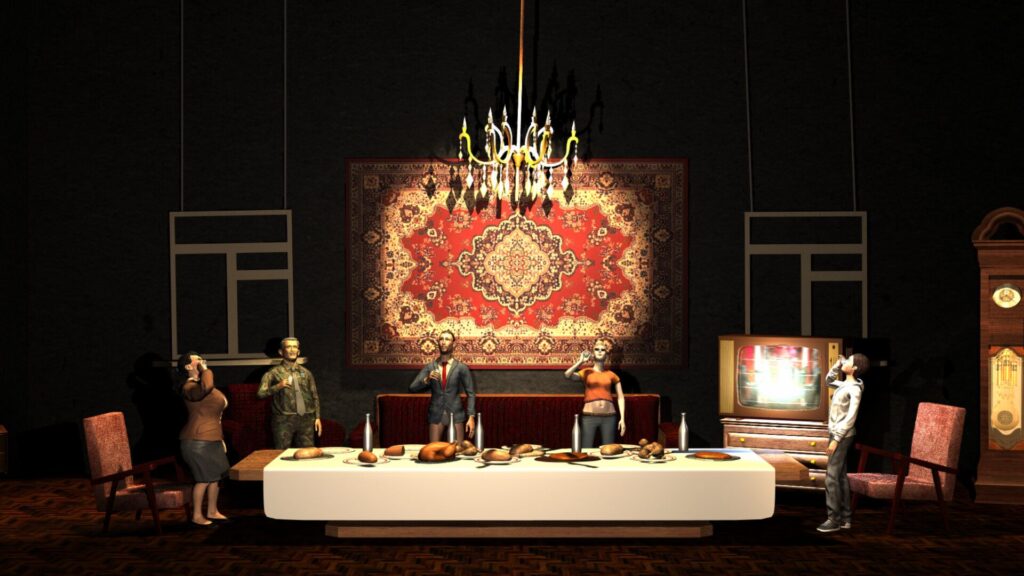 There's no coherent narrative conclusion to be found here, but nor should there be. This is a vignette piece about an uncanny situation, and explanations would only reduce it. To me, this is a game about living in denial of the most awful things happening around you, and the consequences of trying to speak up. That the game is originally Russian is, I think, especially pertinent. There are many different endings, and each will offer you small pieces to add to the puzzle. The game lets you click through its repetition pretty fast, so it's simple to burn through things a bunch of times to watch it play out in different directions.
I'm so pleased to have found this. It's by Sever, who you might know from The Life And Suffering Of Sir Brante, and you can pick it up for free, or better, pay what you want. Itch lets you name a price, and smartly, it's free on Steam and GOG with a "DLC" option to let you tip the developer. Which you should!
All Buried Treasure articles are funded by Patreon backers. If you want to see more reviews of great indie games, please consider backing this project.