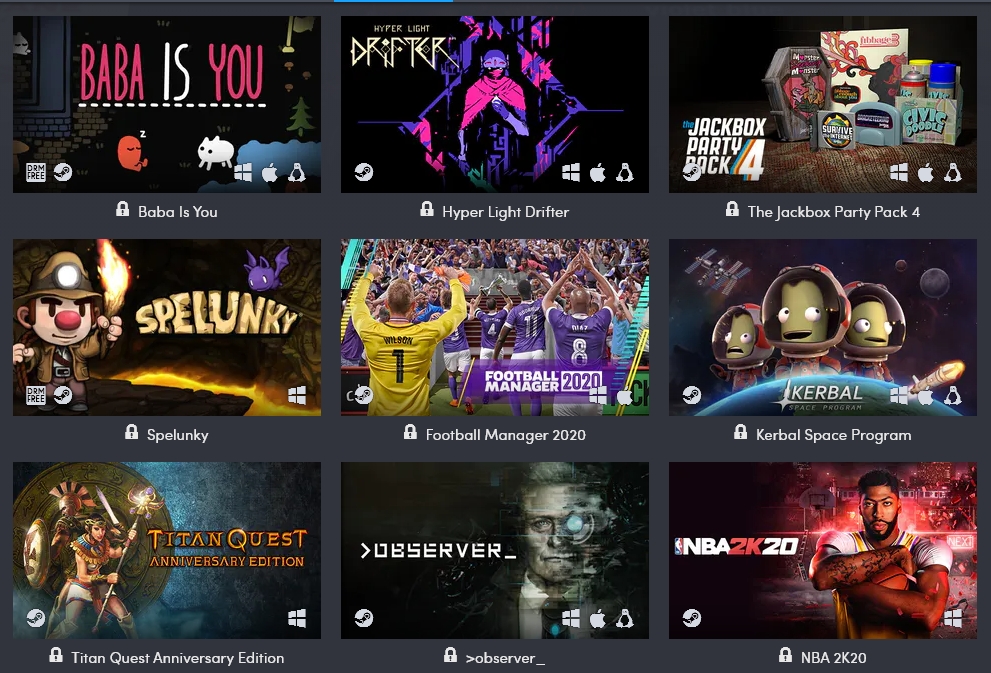 PC
This wasn't meant to be a site plugging bundles. But come on, look at this. It's £25/$30 for a big pile of big-name games, comics and books via Humble, with all the money going to the NAACP Legal Defense Fund, Race Forward and The Bail Project. Which is to say, Humble picking up where itch.io left off, continuing to raise millions of dollars for those most directly affected by the institutional racism and inequality embedded in the systems of the United States.
While the itch.io bundle was very much Buried Treasure's territory, mostly including games that haven't received coverage elsewhere, Humble's focus a lot more on the big indie names, and even some recent AAA stuff. So you've got Foot-to-ball Manager 2020, Titan Quest, NBA 2K20, Elite Dangerous, BioShock Remastered, System Shock 2, Age Of Wonders III, Overlord II and Company Of Heroes 2. That lot for £25 is pretty astonishing. Then you've also got indie darlings like Baba Is You, Hyper Light Drifter, Spelunky, Kerbal Space Program, FTL, This War Of Mine, Armello, Endless Space, Overgrowth, Broken Age, and Knights Of Pen & Paper 2. Which makes it even more impressive. But, crucially, there's some smaller indie stuff in there too, and we'll select some of those to highlight here.
I think it's worth saying I think they've goofed on the price here. Were this money being split with devs too, I'd get it – there are some very big names in there, including from top tier AAA publishers. But it's not, it's all to charity, so why put the minimum amount out of so many people's reach? Yes, absolutely, you're getting, say, the £40 NBA 2K20 for almost half price and then everything else free – it's still a great deal! But perhaps a slightly misjudged one?
itch's $5 was genius, because it meant it was accessible to so many with the computing power to take advantage of it, and those who could give more could do so. Starting at $30 makes it a significant outlay for so many, and many of those who would have voluntarily upped the price to something like that or more are far less likely to choose to go higher. I'd prefer to have seen your big name sports franchises ditched maybe, and a lower initial tag. Yes, Humble have already made over £1m, and that's in the first half a day. And that's wonderful. But they already started with far greater public awareness than itch.io, and it's hard to imagine putting this at around $10 wouldn't have seen them raise far, far more. I really hope they prove me wrong by going stratospheric. Anyway, on with the tips:
MirrorMoon EP
A deeply unusual and stunningly atmospheric game of exploration, MirrorMoon EP leaves people either confused or in love. My favourite piece of in-love writing about it is by the always splendid-to-read, Christian Donlan, and it's here. Imagine a surreal version of the earliest No Man's Sky, teleported in a pod with Proteus.
Neo Cab
If you find yourself wandering into the present day of techphilia and gig economies without having given it a lot of thought, Neo Cab is an excellent prompt. This somewhat dystopian near-future cab driving detective game is really about pointing out that said dystopia might a be nearer future than we think.
EarthNight
I have little to no time for endless runners, beyond the sublime Alto's Odyssey, so I wasn't sure what to expect from EarthNight. It turns out it's something really special. Combining elements from the rogue-lite "genre", it creates a whole new space where compulsively restarting and improving on your last attempt becomes a joyful loop. It's a game of flying, and beating up bad dragons, and it has gone woefully underrated – I'm so pleased it's in this bundle. Here's my original review.
Gonner
Oh my goodness I've never played Gonner. But I'm about to! I have no idea how I missed this in 2016, especially after Adam Smith's glowing review. Fighty jumpy action in joyous cartoon mayhem.
Regular Human Basketball
This went really oddly ignored. Not a single review on Metacritic, despite its amazing premise: giant lumbering robots full of buttons trying to play basketball in a mad mess of physics and magnets. ("Magnets ARE physics." – Every Reader) It's a multiplayer silliness that deserved a lot more attention than it ever got.
Sonic Sega All-Stars Racing
Only joking. What on Earth is this ten year old mediocre Mario Kart wannabe doing in here?!
So Then
I wish So Then were the name of a game. Someone make that game. But so then, there's an awful lot more in there, although to be honest a lot of the lesser known indie games are fairly middling. If you're buying this to pick up one of the big names at a lower price, like perhaps NBA 2K20 at almost half price, then it's great you're essentially getting all the rest for free. Who knows what'll stand out to you.
All Buried Treasure articles are funded by Patreon backers. If you want to see more reviews of great indie games, please consider backing this project.